As Kumru Kimya company, since 40 years with our polymer experience, we are proud to offer you the newest polymer products. With its main purpose of customer satisfaction, we offer you environmental friendly bioplastics polymers of the nature. Green and organic biopolymers are aiming to offer innovation and differentiation to your companies.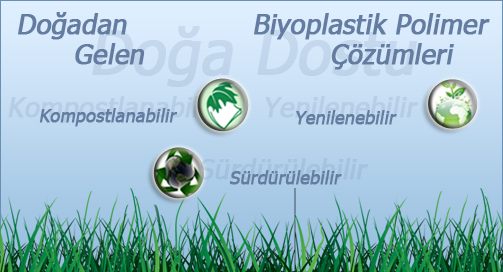 NEW GENERATION BIOPLASTICS POLYMER SOLUTIONS
BIOPOLYMER SUPPLIERS
Below you can find the list of biodegradable and biobased polymers that we offer for your manufacturing processes.
COMPANY NEWS
Between 8-14 May 2014, you are welcome to visit our booth on Interpack Hall9 F14. We will be exhibiting with our partner FKuR Kunstoff company from Germany.
We are exhibiting on Plast Eurasia 2013 between 4-7 December 2014 on Hall 8 Booth 812D
Bioplastics Blog is for you to visit and track latest news about Bioplastics industry in Turkish
ARTICLES
Frequently Asked Questions (FAQ) about Bioplastics
OTHER ARTICLES
How to Process Thermoset Plastics?
Advantages of Thermoset Plastics?
What does Plastic Raw Materials Technical Specifications Tell Us?
SOCIAL MEDIA